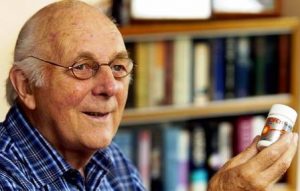 Dr. Stewart Adams, the man who discovered painkiller ibuprofen worked when he cured his own hangover has died aged 95.
Ibuprofen is an anti-inflammatory drug used for treating pain, fever, and inflammation.
Dr Stewart Adams was involved in 10 years of trials of the drug and endured a seven-year wait for it to be approved as a prescription.
He had joined the research department at Boots after studying pharmacy at the University of Nottingham.
Further trials of ibuprofen had to be made before it was then licensed in 1969 as a prescription drug in the UK.
Dr Adams told the BBC in 2015 that the drug was 'very effective' when he took it to combat a headache from a hangover before giving a speech.
He was awarded an OBE for his work in the 1980s. This year is the 50th anniversary of the drug becoming licensed.
Dr Adams, a father-of-two and grandfather-of-six who lived in Redhill, near Nottingham, died at the Queen's Medical Centre on Wednesday January 30.
His son, Chris, a solicitor in Nottingham, said: 'He was very humble and very objective and measured.
'He was an incredibly modest person who was very much dedicated to his work and his family.'
On his father's work, Mr Adams added: 'Being involved in that kind of project and remaining completely grounded and being such a good role model for my brother and I and the grandchildren and others in the family, we are incredibly proud of him,.
'I think quietly he was very pleased that people recognised him later on.
– Daily Mail