Nigeria gears up for 2019 VivaTech
 Sanofi connects African startups with new digital solutions to

 

healthcare

Nigerian emerges as finalist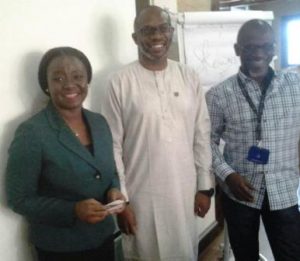 No fewer than 50 African startups will pitch their digital solutions for effective health care delivery at the annual  VivaTech, technology conference, dedicated to innovation and startups held in Paris, France.
One of Nigeria's representatives, WellNewMe, founded by Dr. Obi Igbokwe has been selected as a finalist to represent the continent at the conference which holds from  May 24  to 26, in Paris France.
The African startups are being sponsored to the Paris conference by multinational pharmaceutical giant, Sanofi, which is participating in VivaTech as a partner for the second year running with its "Tech for Health lab," featuring startups with  new digital health solutions. 
At a webinar hosted by Sanofi headquarters in Paris to link participants from African countries in Dakar, Morocco, Lagos and Tunis on Friday April 12, panelists agreed that the African continent is already benefiting from the "Tech for Health" initiative.
A panelists said it was already working in Kenya, for instance, on remote access to health care using clever apps, developed by the startups last year, to link people in the remote parts of the countries with specialists. According to the panelist, more than 50 Nigerian entrepreneurs are also involved at different stages of adopting digital technology for the development of health, education and agric sectors of the African economy.
In his contribution, Sanofi's Vice President and Head of Africa, John Fairest said more innovations and digital health technology are required for Africa to develop its health care system. He observed that the continent has "incredible" energy, innovation and entrepreneurial skills to drive a digital transformation of its health sector.
"If we don't innovate, we are not going to move forward in health care," he further noted adding that Africa has only 2% of health care development in the world.   
"As a big organization, we need to be part of the ecosystem and support the innovation," he said. Such support, according to him, need not be funding alone. "It could be in form of advise, advancing knowledge, connections and giving the startups the opportunity  to work together with others and be part of the ecosystem," he suggested.
In a brief comment at the end of the webinar discussions, the General Manager Pharma and Country Chair, Nigeria-Ghana, Ms Folake Odediran expressed delight that a Nigerian startup is among the finalists for this year's VivaTech. She disclosed that Nigeria and Ghana were also among the participants last year, adding that their presentations were well received.
She pledged total support of Sanofi Nigeria-Ghana to the participants and expressed hope that the  the finalist would come top this year.
Odediran also noted that Sanofi would feature a booth at VivaTech which will be dedicated to innovation in Africa, Afric@Tech, where African startups can pitch their solutions to different health challenges in the continent.
"We recognize that a lot is coming from Africa and we have to give it a voice. Nigeria alone has 35 entries this year and we even have a finalist," she said adding that Sanofi's goal is targeted towards innovations on how to improve the awareness of people with diabetes and also how to improve access to health care in the rural areas in Africa.