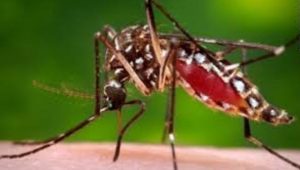 With an alarming rate of over one million deaths from mosquito vector disease worldwide, medical experts and epidemiologists in Africa have advocated a total control of the insect through proper planning as the way out of the malaria challenge in the continent.
This was the major highlight of the just concluded Pan-African Mosquito Control Association third annual conference held recently in Lagos.
Speaking at the three-day conference on the theme, 'Control of Mosquito Vectors: Opportunities & Challenges in the 21stCentury', the Director General of the Nigerian Institute of Medical Research (NIMR), Prof. Babatunde Lawal Salako, lamented that malaria has remained with Nigeria, causing lots of morbidity and mortality especially among children alongside other haemorrhagic fevers.
He stressed the need to ensure that there is proper control of the vector and  new research efforts in view of  recent concerns of malaria,
Also, the Deputy Director of the Nigerian Institute of Medical Research (NIMR), Dr. Sam Awolola, pointed out that the first challenge was not funding, but government realising the importance of research. "It is only when they realise the role research can play in a developing country that would be able to appropriate funding for it."
He added that it was only when the government recognised the importance of research and create an enabling environment to look into and build both human and infrastructural capacities for people to do research, that international bodies could duly collaborate with local ones to make the due impact.
"But because of the biological threats that programmes are facing which is the increase in spread of resistance in other insecticide and the outdoor resting of mosquitoes, new tools are needed. But until they become available, we should continue with the current tools and build capacity to use those tools. And work with other outfit to register new tools when they become available," he affirmed.
On government policy Awolola said: "we should also be happy to know that we have made lot of progress in disease mortality and morbidity due to malaria from the use of the current tools we have, bed nets and indoor residual spray and use of lava source management."
He continued that the World Health Organisation (WHO) is responsible for certain policies, and they use a consensus, bring the experts and right skills to come up with policy recommendation. But I think it's one thing to come up with a policy and another implementing them.
With yellow fever, malaria and the recent spread of Zika virus to other countries, the DG suggested that surveillance should be strong henceforth in Nigeria, in the efforts to monitor zika virus and ensure the country is protected against the virulent disease.
Forging ahead with plans, former Vector Control Officer, WHO, Dr. Abraham Mnzava, highlighted poor policy implementation at country level and lack of human resource capacity and right infrastructure as major challenges to controlling mosquito vector in the sub region.
He explained that often time, policy recommendations are made by the World Health Organization (WHO), but implementing them at the country level requires the right skills to translate into action most of these policies.
Mnzava further stated the need to raise new vector control tools and programmes because existed ones, though still being used, are faced with biological threats such as increase in spread of resistance in some insecticide and outdoor resting of mosquitoes.
"In spite of this, we have made lots of progress in malaria mortality and morbidity from the use of the current tools like bed nets, indoor residual spray and use of lava source management," he noted, adding that it not bad to have mosquitoes around because they balance the ecological system, but infected ones are the problem.
Following this, lecturers from various prestigious universities across the country present at the conference, suggested that it would be a lot better if some of the insecticides sold in the markets go through them for laboratory tests before going into the markets.