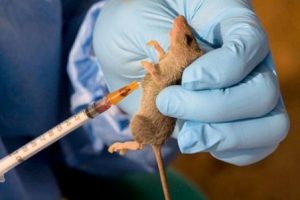 The Minister of Health, Prof. Isaac Adewole, has confirmed the death of a health practitioner as a result of Lassa fever in Ogun State.
A statement made available to newsmen in Abuja by Director, Media and Public Relations Mrs.Boade Akinola said Adewole also mandated the National Centre for Disease Control (NCDC) to release a detailed brief as soon as it concludes it investigations.
The minister called on members of the public to be calm, and seek care in health care facilities adding that anybody with symptoms which include fever, headaches, vomiting, should report immediately at the nearest medical facility.
"Healthcare professionals are reminded to test before treating for suspected malaria and, if the test is negative for malaria, to maintain a high index of suspicion for Lassa fever. Lassa fever is treatable when detected early. Medical personnel are, hereby, directed to report case of suspected Lassa fever immediately to the state epidemiologist, who has been provided with the commodities, by NCDC, to respond to cases."
The minister also urged the health workers to take the necessary precaution in treating patients while commiserating with the Nigerian Association Nurses and Midwives on the death of their member.
Ogun state was thrown into panic earlier this week following the confirmation of  the  death of an assistant nursing officer, Adesuyi Abolanle and a mortuary attendant from the dreaded virus. Adesuyi was said to have attended to a suspected Lassa fever patient, while the morgue attendant handled the corpse.
Worried about the successive death of the duo, the hospital management commissioned a test at the University College Hospital (UCH), Ibadan. The result, confirmed they died as a result of Lassa  fever last  Friday, and Sunday respectively.
Meanwhile, the Commissioner for Health, Dr. Babatunde Ipaye, in a statement, called on the management and members of staff of the Federal Medical Centre, Idi Aba in Abeokuta not to panic over the disease.
Allaying the fear of the staff, particularly the nurses, Ipaye said the situation does not call for unnecessary panic, adding that Lassa fever can only be transmitted by getting in contact with body fluid unlike that of Ebola which can be transmitted through air and some other means.
He said the state ministry in collaboration with FMC would quickly set up an isolation centre at the premises to attend to emergencies of such, while urging the nurses to always attend to all patients in the most hygienically acceptable manner.
He added: "We are going to immediately create an isolation centre here at FMC to cater for unexpected cases and emergency on public health issues like Lassa fever to include others communicable diseases and have set officers out to confirm the root of the cases."