Patients cry out at NHO Media Roundtable
Seek government's urgent intervention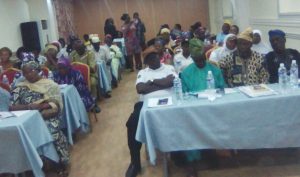 Nigerians living with diabetes today at the NHO media roundtable on diabetes cried out about the escalating cost of anti-diabetes drugs in the country saying this is impeding their ability to control the disease.
One after the other, the diabetics, in speeches laced with emotion, spoke about the  nation's seeming neglect and  nonchalance towards their plight and urged government to take necessary steps to urgently address the situation and save Nigerians from avoidable death from the disease which is increasing rapidly worldwide, especially in the country.
The Media Roundtable organised in partnership with Rainbow Specialist Hospital with support from Roche Products Limited Diabetes Care -and Ely Lilly as part of activities marking the 2016 World Diabetes Day was  attended by members of the Lagos branch of Diabetes Association of Nigeria (DAN) and media practitioners from major newspapers in the country.  The event also featured the annual Diabetes Boot Camp organised by Rainbow Specialist Medical Centre.
In his message, Alhaji Muibi Adeniran, the DAN Publicity Secretary who is also an amputee, told the gathering that the cost of test strips and medications, both oral and injectables (insulin) have gone so high in the country that many diabetics are now at the risk of losing their lives due to poor diabetes control.
According to him, strips which used to cost about N3,000 per 50 now cost between N6,000 and N7,000.
"And that is the least of expenses a person living with diabetes has to incur in a month. Costs of oral drugs and insulin have now gone beyond the reach of many patients. Patients are encouraged to own glucometers so they can monitor their blood sugar by themselves. But hospitals will not accept the results so they still have to pay about N250 in some General Hospitals while the Lagos University Teaching Hospital (LUTH) charges as high as N750 to have their blood sugar level tested.
"I was diagnosed as diabetic in 1987 and I've been managing the disease since then. I don't have a job. Yet I have to pay school fees. It's hard for me as I have to rely on people's assistance," he said as he called on government to intervene and save Nigerians living with diabetes.
Another amputee, Mr.  Tunde Famoye narrated how he lost his leg to the disease as a result of his inability to recognise the early signs of diabetes and poor management by the health centre where his condition was first detected.
Now with the escalating cost of drugs Famoye said life has become very difficult for Nigerians living with diabetes.
"Being an amputee is not easy," he declared saying he now has to depend on goodwill of family members and friend to live as he has not been able to get another job since he was amputated in 2013.
While participants at the Roundtable decried government's seeming insensitivity towards the plight of people living with diabetes, the Chairman, Lagos Chapter of Diabetes Association of Nigeria, (DAN), Alhaji H.A. Afinowi praised the efforts of Nigeria Health Online and sponsors like Roche Products Nigeria and Eli Lilly for making a difference.
He commended the efforts of Dr, Afokoghene Isiavwe and her Rainbow Specialist Medical Centre for their pioneering efforts in diabetes foot management. He noted that Rainbow Specialist Medical Centre had organised three training workshops in partnership with the American Podiatry Institute and the International Diabetes Federation where DAN members received very useful lessons on how to care for their feet.
"Members have now known that walking barefooted is not good for people living with diabetes and even for people not living with diabetes. The examination of the feet for red colouring etc when they take their bath and the use of mirror to see the sole of the feet when they take their bath are all the benefits members have gained at this workshop over the years.
"We have been told at these workshops that the moment members see swellings or wound, they should proceed immediately to see the doctor as untreated or poorly treated foot problems could lead  to amputation which is one of the complications of diabetes," Afinowi said as he showered more encomium on Dr. Isiavwe.