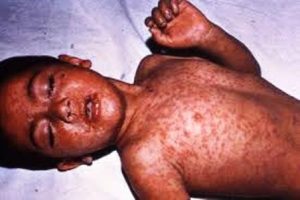 ABUJA  –  Following the outbreak of  measles and rubella in some parts of the coun try, the World Health Organization (WHO) has constituted, in collaboration with the Nigerian government, an Emergency Preparedness and Response team to mitigate further spread of measles and rubella in the country.
Presently, a measles outbreak is occurring in 22 Local Government Areas (LGAs) across five Nigerian states namely Borno, Yobe, Katsina, Ogun and Rivers State. The most affected State is Katsina where 11 (50%) of the 22 affected LGAs are located while the cases of measles in Ogun State cases occurred in LGAs (Ipokia and Yewa North) sharing international border with Benin Republic. Those two LGAs in Ogun State are also experiencing a rubella outbreak.
Measles (or rubeola) is a highly contagious viral disease. It remains a key cause of death among young children most especially the under five years in Nigeria, despite the availability of a safe, free and effective vaccine.
Rubella, also known as 'three-day measles,' is also a contagious viral infection best known by its distinctive red rash. Though the two illnesses share similar characteristics, including a red rash, Rubella is not the same as measles and it is not as severe. Surveillance for the Rubella disease is yet to be established in Nigeria but currently rides on Measles surveillance.
To prevent measles outbreaks in children, measles vaccination was introduced into the routine immunization schedule. Vaccines are administered at 9 months of age for under one-year-old children and second opportunities provided during measles follow-up or catch-up campaigns.
In Nigeria, the Government conducted measles campaigns across the 774 LGAs in the 36 states and FCT in a staggered manner. Measles campaigns were conducted in the Northern States during November 2017 and in the Southern States in March 2018. The LGAs currently affected by the outbreak were also covered by these campaigns with a total of 942,164 (95%) children vaccinated out of a target of 1,008,970 under five children targeted in these LGAs.
However, despite the achievement with the campaign and the availability of routine immunization services the affected LGAs, the overall population immunity remains poor due to poor belief in immunization and non-acceptance of measles vaccine during campaigns especially around the border areas.  This low level of immunization has contributed in the current outbreak.
"Upon notification of the outbreak, with support from our partners most especially the WHO, a rapid response was carried out to investigate the outbreak, carry out retro-active case searches, line listing of all suspected cases (reported and unreported) through house to house and health facility search in affected communities and provided medication to treat the affected," says Dr. Ipaye Babatunde, the Commissioner of Health, Ogun State Nigeria. "We did all these to limit the spread of the outbreak, understand the predisposing factors and promptly manage the affected''
In response to the outbreak, WHO worked closely with the Federal Ministry of Health, the State Primary Health Care Boards (SPHCB), LGA immunization teams and other development partners. State Epidemiologists led the outbreak investigation and control measures with WHO's assistance.
WHO has notably supported the transportation of samples for laboratory analysis and case confirmation, and assisted state authorities in conducting sensitization events. WHO also supported the organization of advocacy visits and health education sessions in and around the affected LGAs including at the  border with the Benin Republic Border in Ikpokia and Yelwa LGAs. Referral centres for management of cases were also established and supported technically.
According to Dr Clement Peter, Officer in Charge of the WHO, Nigeria, "WHO has embarked on sensitization of mothers and other care givers in the communities and immediately deployed support to various states for technical assistance to rapidly control the outbreak."
He further states, "Health education on detection and prompt reporting of measles and rubella has been provided to members of the community and health workers have been alerted across all health facilities in the affected States. In addition, cases of children with measles and rubella like symptoms have also been referred to referral health facilities for immediate case management."
In Ogun state, advocacy visits to the Redeemer school carried out by the Emergency Preparedness and Response team to conduct an on the spot assessment of students in the school has increased awareness among staff and students of the school.
Plans are underway to target more schools nationwide to boost sensitization on the importance of reporting measles cases and seeking for immunization against vaccine preventable diseases. Reactive vaccination has also been planned for implementation in the affected LGAs targeting children under five years of age and stepping up of routine immunization services.