Advocates establishment of Commission for Malnutrition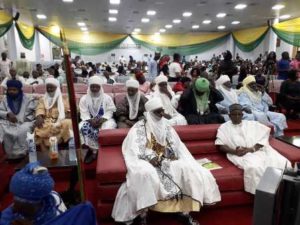 ABUJA – One of Nigeria's leading traditional rulers, Sanusi Lamido Sanusi,  the Emir of Kano, has recommended the establishment of a Commission for Malnutrition to effectively tackle the growing problem of malnutrition in the country.
Emir Sanusi, also a former Governor of Nigeria's Central Bank stated spoke  at the 49th Annual General Meeting and Scientific Conference of Nutrition Society of Nigeria (NSN), saying the problem of malnutrition deserves more attention than it is currently being accorded by the nation's  health authorities.
He said it was painful that despite the fact that government realized that more than a half of under-five children in the country are malnourished, there is no department in the Federal Ministry of Health or even a Director whose sole duty will be to address the menace of malnutrition.
The Emir said many children in the country are believed to be killed daily by diseases such as cholera, malaria, dysentery and the likes, but that little do people know that those deaths have underlying hands of malnutrition.
He therefore called for the upgrade of the current Nutrition Unit in the health ministry to a Department or the creation of a stronger, well-funded and resourced organization – a National Commission for Nutrition.
The Emir, who stated that he had proposed the establishment of such an institution for the National Council on Nutrition of which he is a respected member, challenged Permanent Secretary of the Federal Ministry of Health, Mr Abdullahi Mashi, who represented Vice President Osinbajo at the event, to work towards the success of his recommendations.
The Emir's position enjoyed huge support from other dignitaries at the event, including Chairman of the occasion as he narrated his personal experience with the death of a malnourished child in his palace: "For me, up till now, I've been Emir for five years, I still remember the saddest day of my life as an Emir. This happened less than a year of my ascension to the throne…
"On this particular day, as I was sitting on the throne, I heard a very loud scream and everybody heard it. I said someone should go and check what it was. When they came back, that scream was the scream of a woman who was waiting for the Emir for financial support because she had walked across the children hospital in the palace, looking for support to buy drugs for her child. While she was waiting, the child died in her hands
"How much was she looking for? It was less than N3,000 (about US $9). So, if you want to know what it means to live on less than one dollar a day, it is that as a woman, you watch your child die because you cannot afford drugs worth N3000. This is the country we are living in.
"I go to children hospital, at least I go there during Ramadan, if you go to that hospital, you don't need a doctor or nutritionist to tell you, you look at all the children there, and you can be sure you know that 70 or 80 percent  are there because of malnutrition. The skin is hanging on their bones….
"For all of us here, if any of our children dies, it will only be on newspapers 'Emir of Kano loses son.' Pictures of Governors visiting to condole him; the world knows. But, every day, in villages, in towns in this country, boys and girls are dying because of malnutrition and the Federal Ministry of Health does not have a director in charge of this.
"And, the state ministries do not. One of the issues in that report (that) I was talking to the National Council on Nutrition (about) is how can we have a national commission looking at infectious diseases, communicable diseases. We have commission on HIV/AIDS (so) why is it so difficult to have one national agency that is well funded, that is focused on nutrition?
"If we have the highest infant mortality rate in the world, one of the highest maternal mortality rate in the world, and if you know that about half of those deaths have underlying cause in malnutrition, what is the evidence that you're concerned about it?,"
the Emir queried.
In his remarks, Vice President Yemi Osinbajo, who was represented by Permanent Secretary in the Federal Ministry of Health, Abdullahi Mashi, highlighted efforts of government to improve on general wellbeing of people in the country.
He specifically listed efforts of President Muhamadu Buhari's administration to revamp agriculture and the school children feeding programme as a mean of improving pupils diets as some of the things being done by the government.
Similarly, President of the NSN, Bartholomew Brai, said "it is worrisome that situation of nutrition in Nigeria has not improved significantly in the last few years despite the enormous resources deployed by donors and other stakeholders."
He said the forum would serve as an additional training ground for nutritionists across the country.
He added that there was urgent need for capacity building for nutritionists in the country. To this end, Mr Brai revealed that his organization was being supported with fund from the Bill and Melinda Gates Foundation for training of its members between 2018 and 2021.