Already established in all 17 southern states.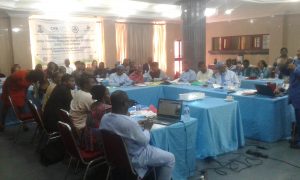 11 states in Nigeria are yet to domesticate the Child Rights Act, and they are all from the country's northern region.
This was revealed Monday May 6, 2019 at a Two-day Media Dialogue on the Convention on the Rights of the Child (CRC) which clocks 30 this year.
The meeting, which had journalists from different parts of the country, was convened by the Child Rights Information Bureau (CRIB) of the Federal Ministry of Information and Culture, in collaboration with United Nations Children's Fund (UNICEF)
According to UNICEF Child Protection Specialist, Blessing Ejiofor, states yet to domesticate the Act are Sokoto, Kano, Zamfara, Kaduna, Jigawa, Katsina, Bauchi, Yobe, Borno, Adawama and Gombe.
Only eight states out of the North's 19 states have domesticated the Act. They are: Niger, FCT, Nasarawa, Taraba, Benue,  Plateau, Kwara and Kogi.
Meanwhile, all 17 states in the country's south have domesticated the Act.
Ejiofor said Jigawa state had earlier domesticated the Act but repealed it thereafter.
Nigeria adopted the Child Rights Act in 2003 to domesticate the international Convention on the Rights of the Child.
CRC was adopted on the 20th November, 1989 by the UN General Assembly, and was ratified by 194 state parties, except Somalia.
It covers civil, political, economic, social and cultural rights, thus underscoring the indivisibility and equal importance of all rights.
Children's rights cover every aspect of the lives of children and adolescents, broken down into the following: survival rights, development rights, participation rights, and protection rights.
Part II of the Child Rights Act states the right of the child to dignity, to leisure recreation and cultural activities, to health and health services, to parental care, protection and maintenance, to free compulsory and universal primary education, and to special protection measures and protection from harm.
"Every government in Nigeria shall strive to reduce infant mortality rate, provide medical and health care, adequate nutrition and safe drinking water, hygienic and sanitized environments, combat diseases and malnutrition, support and mobilize through local and community resources, the development of primary health care for children," the part of the law states further.
Many Nigerian children are out-of-school, and are vulnerable to all forms of abuses. Girls are married before they attain the age of 18, and are denied basic health they need.
The nation has been faced with terrorism and other criminal activities, many of which children have been used.
The country's north is currently battling with internally-displaced persons, many of whom are children. There are reports the IDPs, especially children among them, have continuously been abused at various unsafe camps where they seek shelter.
Nigeria currently has about 13.2 out-of-school children who economic and security experts say may constitute threats to nation's development in the near future.