Aisha Buhari, local, foreign health experts renew fight against TB in Nigeria
…Disease kills over 120,000 Nigerians annually, says govt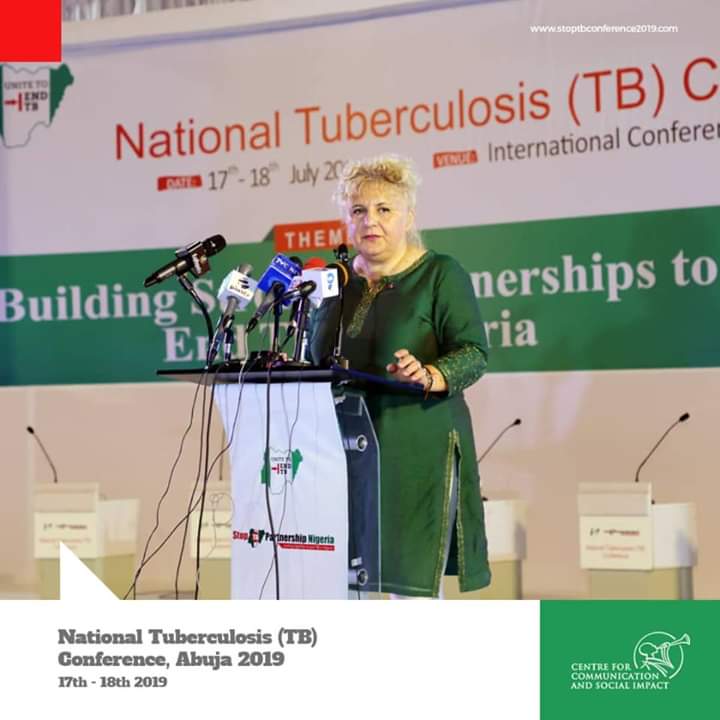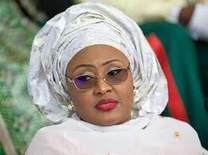 Wife of Nigeria's President, Mrs Aisha Buhari, joined local and international health experts in Abuja, Nigeria, on Wednesday July 17, to strengthen fight against tuberculosis.
Mrs Buhari was at the second National Tuberculosis Conference where health experts across the world lamented the state of the disease in the country and fashioned out ways to defeat the disease.
Tuberculosis, otherwise known as TB, kills 120,000 people in Nigeria, with an estimated 418,000 infected with disease annually in the nation, according to figures made available by Permanent Secretary, Federal Ministry of Health, Mr. Abdullahi Mashi, at the event.
Mrs Buhari also said Nigeria has the largest number of TB cases in Africa and the sixth largest in the world.
"Approximately, 600,000 people become infected with tuberculosis in Nigeria every year and it is projected that up to 60,000 of these cases affect children," she said.
Represented by her Chief of Staff, Dr Hajo Sani, the First Lady advocated more funding for fighting the disease in the country.
She said "it is unacceptable that the country has one of the worst TB cases detection in the world with just about 25 percent case detection."
According to her, the conference was a wakeup call on all stakeholders to work together and bring stronger partnership to end TB in the country.
She said her passion to support end to TB was the reason she acceptable to be Global TB Champion and Ambassador to End TB in Nigeria.
Permanent Secretary, Federal Ministry of Health, Mr. Abdullahi Mashi, who was represented by Director of Public Health, Federal Ministry of Health, Dr Evelyn Ngige, said the conference "marks the watershed in the annals of Nigeria's TB control efforts."
He added: "TB is a major problem in Nigeria. According to the 2018 WHO TB report, Nigeria has the highest burden in Africa and has the sixth highest burden globally among the high TB burdened countries.
"418,000 Nigerians are estimated to have tuberculosis annually. 41,800 Nigerian children are expected to have tuberculosis annually. Working age group of Nigerians (15 – 44 years) are most affected by TB disease and TB death. 71 percent of TB patients and their households in the country are affected by catastrophic costs due to tuberculosis. Over 120,000 Nigerians die annually from tuberculosis."
He listed efforts of government in taming the disease as establishment of National Tuberculosis and Leprosy Training Centre, Zaria; expansion of diagnostic and tuberculosis services; ensuring all the 36 states in the country and the Federal Capital Territory have capacity to manage drug-resistance TB patients in their communities; making sure treatment for TB patients have been consistently above 80 percent in the past five years among others.
She also highlighted challenges militating against TB control in the country as low identification of TB cases; about 26 percent facilities in the country offering TB services; and only about a half of local government areas in the country have GeneXpert, which is most effective in identifying TB.
Also in a remark, Executive Director, Stop TB Partnership, Geneva, Dr. Lucica Ditiu, said at the conference.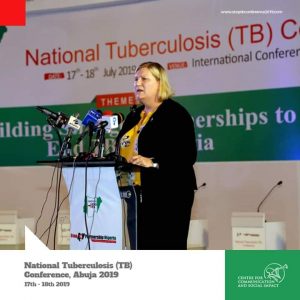 "It is very true we have problem with TB in Nigeria. It's the biggest problem in Africa, it's a very high problem in the world, and it's a long way to address it. We have to face it, it's a situation. It's always better to face the problems rather than trying to avoid them. It's a very large number of people with TB that we have in the country, that we have to diagnose and treat. In addition to large number of people with TB, obviously a large number of people with multi-drug resistance TB and drug-resistance TB, it's coming also, a large number of people that are not diagnosed and treated.
"You've heard that around 30 percent of people are diagnosed and treated. The remaining, large number, 70 percent are undiagnosed and treated."
She said every person not diagnosed and treated could infect between 10 and 15 others. She emphasised there is TB problem in the country and people have to be aware about it.
Earlier in his welcome address, Board Chairman, Stop TB Partnership Nigeria, Prof. Lovett Lawson, had
said Stop TB Partnership Nigeria has since 2007 been in the forefront of championing the course for multi stakeholder engagement in TB control in Nigeria.
He said working with other key stakeholders, the group had been able to mobilize additional resource towards supporting TB control response in the country.
"We are aware that Tuberculosis (TB) is among Nigeria's top priorities and the country is one of the 14 countries that are listed in all three of the World Health Organization's (WHO) global lists of high burden countries for TB, TB/HIV and multi-drug resistant (MDR)-TB. The National TB programme has made some incremental progress in the quality of TB treatment and care over the years, but the treatment coverage has remained low at 25% and case notifications have stagnated over the past five years.
"To reverse this trend and see that Nigeria joins other nations in moving towards the 2035 global TB control targets, we must all join hands in any way we can to create awareness about TB, devise better ways of improving access to care and most importantly bring on board other key stakeholders in addressing the funding gaps," he said.
Prof. Lawson noted that the conference provided the avenue for the generation of new collaborations for technologies and innovation, promote best practices in TB programming and the designing of evidence-based polices for improved TB control in the country.
Meanwhile, a member of Kenya national parliament, Stephen Mule, cautioned on the dangers of depending on foreign donors to fight the disease. He said the country should focus on domestic financing. He challenged legislators in the nation to make laws that will boost funding the fight against the disease locally, while they also engage their constituents on the scourge.