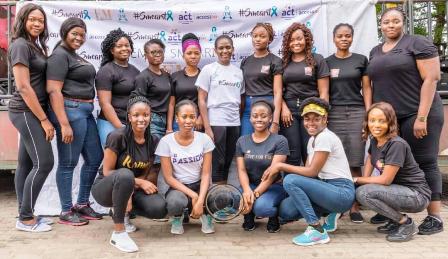 Mrs Onasanya, centre, (Standing in white) with participants at the event
A magazine publisher, Mrs Tewa Onasanya, has called on government to provide free screening and vaccination on cervical cancer for women and children.
Onasanya made the call during the 9th annual cervical cancer screening campaign jointly organized by Exquisite Magazine Cancer Foundation (EMAC) and Act Foundation in Lagos.
"We are screening over 300 people in Lagos today and our target is 1000 people.
"Our drive is to get women screened and children vaccinated while spreading the word that early detection saves lives," she said.
Onasanya, who is the publisher of Exquisite Magazine, said that free screening and vaccination for children from nine years would protect and prevent them from cervical cancer.
"People should know that they can prevent death by regular screening and vaccine that will prevent them from any related human papilloma virus," she said.
She disclosed that cervical cancer is caused by the human papilloma virus (HPV) which has a prevalence of about 25 per cent in Nigeria.
"According to research, every year, over 10,000 Nigerian women are diagnosed of cervical cancer and over 8,000 Nigerian women die from this largely preventable killer.
"All sexually active women in the reproductive age group are exposed to the virus and therefore at risk of forming cervical cancer during their lifetime.
"The awareness is still very low as less than five per cent of Nigerian women are aware of the existence of cervical cancer.
"Thousands of women are literally dying of ignorance. This is why cervical cancer kills one woman every hour in Nigeria," Onasanya said.
According to her, cervical cancer is preventable because it has a pre cancer stage which can be treated.
"We must therefore end the ignorance about a disease that is 100 per cent preventable and save the lives of our women from the scourge.
"We have screened thousands of women in different states since 2010.
"Out of the 1000 women we are screening this year, we will be treating people that have pre-cancer as well," Onasanya said.
Also speaking, Dr Abiona Adekunle, a medical practitioner, urged government and non-governmental organisations to subsidize vaccines on cancer.
Adekunle, who works with May Central Clinic, Akoka, Lagos, said a lot of women could not afford the cancer vaccines.
"Subsidizing of vaccines is very important because women take three doses of vaccines which protects them from the disease.
"Vaccines are administered from age of 10 years before sexual exposure to adulthood, the vaccines provide effective protection and immunity," he said.
Adekunle said that creating more awareness would help women to get screened and detect the disease early.
"We must raise awareness and educate everyone on preventive methods for this form of cancer that is preventable and treatable when detected early.
"Regular check-up and getting vaccines helps women and girls to be safe from cervical cancer," he said.