Nigeria unveils HIV/ AIDS Indicator and Impact Survey
It's  world's largest cross-sectional population based survey

Shows prevalence drops to 1.4% from 2.8%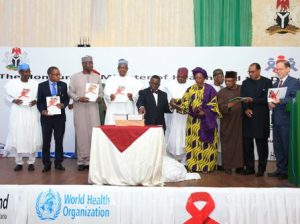 ABUJA – President Muahammadu Buhari  today at the at the Banquet Hall of Aso Rock, Presidential villa  unveiled the  2018 Nigeria HIV/ AIDS Indicator and Impact Survey Results (NAIIS).
The results revealed that  the number of persons living with HIV/AIDS in the country has dropped from 3.2 million to 1.9 million while HIV prevalence varied across Nigeria with the South South zone recording highest prevalence and the lowest prevalence in the North West zone.
Announcing the results President Buhari said the survey, the largest ever cross-sectional population based survey that assessed the prevalence of key human immunodeficiency virus (HIV)-related health indicators, was designed to provide the data needed by government  to plan adequately and consolidate on the progress towards the elimination of HIV in Nigeria.
"I am pleased to report that this survey has provided Government with the crucial information needed to enable the national HIV response to move forward and plan for a more sustainable and accountable programme based on credible scientific data.
"The official HIV prevalence for persons aged 15-49 years in Nigeria is now 1.4 per cent. An estimated 1.9 million Nigerians are now living with HIV with about one million persons on treatment.
"I am delighted that these more accurate figures indicate that fewer Nigerians are affected by HIV. However, we cannot celebrate just yet, as almost a million Nigerians living with HIV are currently not on treatment. Now that we have data that will help us target for impact, I urge all of us not to relent in this fight, but to increase the momentum in a concerted effort to end the epidemic ahead of 2030,"  he said.
Welcoming guests to the event, the Director-General, National agency for the control of AIDS (NACA) Dr. Sani Aliyu noted that past surveys failed to demonstrate significant improvement in the country's  epidemic status proportionate to government's  efforts despite huge investments made over the years to scale HIV/AIDS interventions in the country.
"In fact, impact data has continued to show a widening gap between the individuals on treatment and those projected to be in need of services.
"These concerns informed our decision to conduct a more scientifically robust household survey – the Nigeria AIDS Indicator and Impact Survey (NAIIS). This was launched by Mr. President in June last year.
"NAIIS had a large sample size of 225,000 persons drawn from more than 97,000 households across all the local government areas of Nigeria, making it truly representative of the general population.
"At any point during the survey, we had at least 3,000 staff collecting and reporting data in the field. The survey measured the incidence and prevalence of HIV, level of virological suppression and the epidemiological impact of the HIV programme among different age groups.
"The NAIIS survey and its findings have greatly positioned Nigeria to objectively assess our performance as a country against internationally set targets for achieving global epidemic control."
In a keynote address, Minister of Health, Prof Isaac Adewole disclosed that NAIIS was planned and implemented by the Federal Ministry of Health in collaboration with NACA, PEPFAR/US CDC and Global Fund.
He also disclosed that the survey was conducted in a record time when compared with the conduct of similar surveys in other countries.
"In addition, it is adjudged to be the largest HIV survey ever conducted globally with a sample size of over 200,000 respondents," he further said.