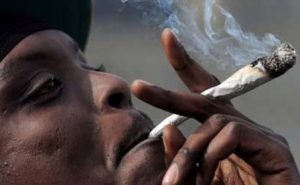 No fewer than 14.3 million people (14.4 per cent of Nigerian's population) in the age group of 15 to 64 years abused drugs such as tramadol, codeine and cannabis within the past one year.
This is the highlight of  the first ever National Drug Use Survey in Nigeria in January 2019 conducted by the Nigerian Bureau of Statistics (NBS), Centre for Research and Information on Substance Abuse (CRISA) and the Federal Ministry of Health (FMoH) with the support of UNODC and the European Union (EU).
The data suggests that the prevalence of past year drug use in Nigeria is more than twice the global average of 5.6 per cent.
The report, released Tuesday, from Vienna, Austria, showed that alarming is also the considerable use of prescription opioids (mainly tramadol and to a lesser extent codeine) and cough syrups for non-medical purposes – with 4.6 million people using these in the past year.
"This places Nigeria among the countries with high estimates of non-medical opioid use globally. While cannabis is the most widely used drug globally and in Nigeria, use of opioids is responsible for most of the negative health impacts of drug use. Over the past 20 years, West Africa has become a transit point for cocaine trafficking; worryingly the data now shows cocaine has become a drug of choice for use by a sizeable number of Nigerians."
According to the report, "while the misuse of these substances is worrying, we have to also recognise that they have a legitimate medical use and it is important to ensure that such prescription opioids are made readily available to those who have a medical need. Any response at the policy and intervention level will need to be nuanced and be mindful of this complexity.
"The gender dimension is an important, yet lesser known aspect of drug use in Nigeria. One in four drug users in Nigeria is a woman, yet less than five per cent of those in treatment for drug use are women. A key question is whether enough is being done currently to support Nigerian women to deal with their drug use?
"There is a clear gap in meeting the needs for treatment and care for people with drug use disorders. With close to three million Nigerians living with some level of drug dependence, the extremely limited availability of drug counselling and treatment services exacerbates this health crisis."
Unveiling the report in Abuja, the Minister of state for Health Dr. Osagie Ehanire,  said some of the findings of the survey are striking and alarming; hence, call for concerted efforts to mitigate the negative consequences of the increasing use of psychoactive substances on the health and security of the nation.
Ehanire said that the high rate of drug use in the country constitutes serious public health issues that require that the country strengthens its drug demand reduction strategies with focus on evidence based drug use prevention, treatment and continuum of care, adding that the National Drug Control Master Plan (2015 – 2019) is about to be reviewed.
The Minister noted that in the past-year prevalence of drug use in Nigeria estimated at 14.4 % or 14.3 million people aged between 15 and 64 years as compared to the 2017 global prevalence of 5.6% among the adult population,
People Who Inject Drugs, PWID, constitute a sizeable proportion of high risk drug users with pharmaceutical opioids, followed by cocaine and heroin as the commonly injected drugs, Considerable level of non-medical use of prescription opioids such as Tramadol, and cough syrup (containing codeine or dextromethorphan).
He however lamented that in spite of the prevalence of drug use by Nigerians insufficient drug treatment facilities and services for users was also a problem.
Speaking further, the Minister said that 11 hospitals have been upgraded to Model Drug Treatment Centers across the 6 geo-political zones of the country with the support of European Union, EU, and UNODC.
He said, "With support of UNODC, over 1200 healthcare practitioners across the country have being trained on provision of evidence based drug treatment services between 2015 and 2018; with 25 certified as National Master Trainers on Treatment Modules and Universal Treatment Curriculum, UTC."