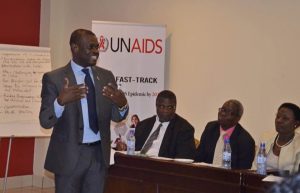 Isaac Ahemesah has been involved in the AIDS response for almost 25 years, the last 16 of which were spent working for UNAIDS in various positions across Africa. His most recent assignment has been as a Fast-Track Adviser in the UNAIDS Country Office in Malawi.
Mr Ahemesah's interest in the AIDS response started in 1995, when he was studying social work at university in Ghana. As part of his studies, he was required to carry out field work at the local hospital, where there was a hospice for the many people dying from AIDS-related illnesses.
"At that time, there was no treatment for HIV. There was nothing for people living with HIV at all," he says. "I didn't know what I was getting myself into," he continues. I just knew I needed to help."
This was the beginning of his long involvement in the AIDS response. He started his professional career at the Catholic Relief Service as an HIV and AIDS Programme Officer and went on to join UNAIDS in 2003 in the UNAIDS Country Office in Ghana. Since then, he has held various positions, including Institutional Development Adviser, Human Rights, Gender and Community Mobilization Adviser in Liberia and currently Fast-Track Adviser in Malawi.
Having survived the terrorist attack on the United Nations complex in Abuja, Nigeria, in 2011 and the outbreak of Ebola in Liberia in 2013, Mr Ahemesah remains undeterred in his passion for a people-centred AIDS response.
"People living with HIV need their voices to be amplified in a way that affords them dignity and respect. Everyone needs access to HIV prevention, treatment, care and support services that are free from stigma and discrimination. We need to ensure that no one is left behind," he continues. "UNAIDS provides me with an opportunity to turn these important principles into reality."
Among the achievements he is most proud of during his time in Malawi is the advocacy work that he and his colleagues have been able to carry out with partners such as the United Nations Development Programme and civil society organizations. Together, they worked on the country's HIV and AIDS Management and Control Act in 2018 to strike out or amend all provisions that criminalized people or discriminated against certain groups. This partnership ensured that the final legislation was consistent with international human rights standards and in line with model laws developed by the South African Development Community and Law Commission.
The new law has helped to create an enabling environment in which HIV services can be provided to everyone in Malawi, including lesbian, gay, bisexual, transgender and intersex people and female sex workers, who are at higher risk of acquiring HIV than the general population.
"The changes to the legal environment have allowed UNAIDS and its partners to work more openly and effectively with key populations such as sex workers and lesbian, gay, bisexual, transgender and intersex (LGBTI) people," says Mr Ahemesah. "Six LGBTI community-led organizations are now officially registered, which means they can apply for funding, follow training opportunities and be run as fully functional organizations."
Mr Ahemesah is happy that Malawi is making good progress towards reaching the AIDS targets, including the 90–90–90 targets. There are around 1 million people living with HIV in Malawi, of whom 90% know their HIV status. It is estimated that 71% of people living with HIV are now on treatment and that 61% of people living with HIV have suppressed viral loads.
Advances against HIV have contributed to an increase in the country's life expectancy, from 46 years in 2000 to 64 years in 2018. Malawi was also the first country in Africa to adopt the Option B+ strategy, which ensures that pregnant women living with HIV have immediate and lifelong access to treatment to ensure that they stay healthy and that their children remain HIV-free.
During the 15 years he has spent working at UNAIDS, Mr Ahemesah has occupied many different roles. His experience will stand him in good stead as he prepares to leave Malawi later this year to take up his next assignment, as the UNAIDS Country Director in Sierra Leone, but it is his passion and commitment to improve the lives of people living with and affected by HIV that continue to be his most valuable attribute.