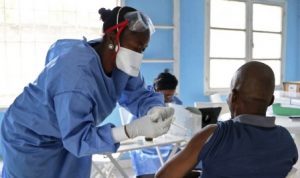 As Ebola outbreak rages on in Congo, vaccine giant Merck has announced plans to ship another 120,000 doses of its  experimental vaccine to aid officials combating the virus.
Associate Vice President Lydia Ogden told the World Economic Forum that the company is committed to having a ready stockpile of 300,000 doses and already has shipped 100,000 to the World Health Organization, the Associated Press reports.
Congo's health ministry designated the outbreak last August; so far, the outbreak has grown to 689 cases and caused more than 400 deaths.  WHO officials have already vaccinated more than 60,000 people with the yet-unapproved vaccine, the agency said.
Merck licensed its Ebola vaccine from NewLink Genetics amid the deadly 2014 Ebola outbreak in western Africa and accelerated development in response to that emergency. In all, more than 11,000 people died in that outbreak.
Now, the company is ready to seek FDA approval for its vaccine. Under an FDA breakthrough tag, Merck started a rolling submission for its shot in November; the company expects to finish the process this year.
The vaccine hasn't yet won international approvals, but vaccine advisers for WHO have recommended its use to combat outbreaks when no licensed vaccines are available.