Over 44 countries in attendance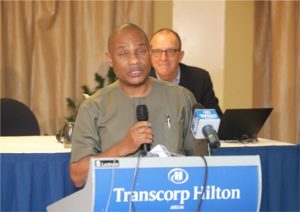 ABUJA  – The first Regional Value for Money' (VfM) Training of Trainers (ToT) is underway in Abuja.
The 5-day workshop (24- 28 June 2019), which registered over 80 participants, drawn from 44 African countries is based on critical aspects of reforms in line with the World Health Organization's Africa Regional Office (WHO-AFRO) Transformation agenda – a vision and a strategy for change, aimed at facilitating the emergence of a WHO that staff and stakeholders want.
During the opening ceremony, Permanent Secretary Federal Ministry of Health (FMoH), Dr Abdullahi Mashi, said, "The aim of the workshop which is to support the roll-out of VfM implementation in the African Region is very apt, particularly coming at a time when there is renewed global and national attention towards improving health outcomes and achieving Universal Health Coverage (UHC)."
He described VfM in the health sector as an initiative for maximising the impact of resources spent to improve people's lives. "It is also about prioritizing our interventions in the health sector and deriving maximum benefit from the scarce funds we have. It is all about efficiency and effectiveness."
The PS who was represented by Dr Emmanuel Meribole, Director of Policy, Planning and Research at FMoH mentioned that Nigeria is currently implementing a number of health financing reforms that will help to redefine and shape the trajectory of UHC aspirations and the Sustainable Development Goals (SDGs). He further thanked the WHO for its resilience and partnerships which are anchored on the common objective of building a resilient health system towards accelerating and sustaining UHC.
Integration of VfM in all operations of WHO was agreed upon during the 142nd Executive Board session  of the WHO, seeking to launch the implementation of a holistic value-for-money approach, while fostering an organizational culture driven by results and impact. In order to place impact at the heart of its work, the WHO organized a global Training of Trainers in 2018 in Jordan with a resolution for all regions to replicate in their member countries.
In his remarks, Dr Clement Peter Lugala, the Officer in Charge (OiC) WHO Nigeria appreciated the government of Nigeria through the Federal Ministry of Health for accepting Nigeria to host the regional workshop of thismagnitude.
The OiC stressed that the ToT is the first in the WHO African Region and is expected to catalyse the cascading of VfM implementation in all the countries in Africa.
"This training is therefore expected to enhance the capacity of trainers who will facilitate in the rollout of VfM and Operational Planning in their respective Budget Centers. It will also equip the trainers with new tools that will make WHO fit-for-purpose and compete within the current changing development landscape."
VfM is centred on how the organization achieves results to provide optimal deployment of efforts and resources. Its definition focuses on five dimensions, namely: Economy, Efficiency, Effectiveness, Equity, and Ethics. WHO intends to address VfM at three complementary levels including: global strategic priority-setting; programme design and implementation with a focus at country level and leadership plus enabling functions.