as International Day against Drug Abuse and Illicit Trafficking 2019 is marked globally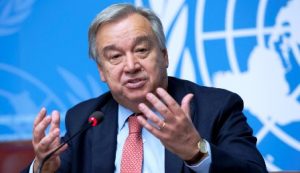 The International Day against Drug Abuse and Illicit Trafficking 2019 is being observed worldwide today amid report showing that no fewer than 35 million people, out of  about 271 million people who use any drug, suffer from drug use disorders while only 1 out of 7 people receive treatment.
Also, the 2019 World Drug Report, launched today at the United Nations Secretariat in New York to commemorate the day,  revealed that death toll from drug use disorders is on the increase with 5,85,000 deaths recorded in 2017 alone. The surveys conducted in India in 2018 and Nigeria in 2017 provide insights into drug consumption due to vast demographics for the region.
In a message to mark the Day, the United Nations Secretary General, Mr. António Guterres described drug problem as one of the most challenging issues facing the world, saying It has wide-ranging impacts on the health and well-being of individuals, families and communities, as well as on the security and sustainable development of nations.
"Earlier this year, at the Commission on Narcotic Drugs, Member States committed to 'working together for rights- and health-based responses to drugs so that people can live in health, dignity and peace, with security and prosperity'.
"I call on all governments to live up to this pledge. This means cracking down on drug trafficking and those who profit from human misery, including by enhanced international cooperation and intelligence-sharing across the entire drug supply chain. It also means human rights-based, gender- and age-sensitive prevention, treatment and rehabilitation services for drug use and HIV, offered without stigma or discrimination. It also means law enforcement approaches that protect people from violence and criminal exploitation.
"Families, schools and communities play a crucial role, especially in supporting youth who may be affected by drug abuse with terrible and long-lasting consequences. Let us work with and for young people to prevent drug use and help young people lead healthier lives and navigate life choices with strength and resilience,"
In his statement, the Executive Director, UN Office on Drugs and Crime (UNODC), Yury Fedotov pledged the support of the organization to all countries "to work together and promote balanced, health- and rights-based approaches to drug challenges, building on the international drug control conventions, human rights obligations and the Sustainable Development Goals."
Fedotov recalled the Ministerial Declaration adopted at the Commission on Narcotic Drugs in Vienna last March in which the international community reaffirmed its resolve to address and counter the world drug problem.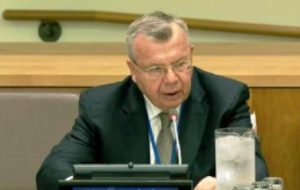 "To be effective, holistic approaches are needed. Integrated solutions are only possible when fair and humane institutions of criminal justice, health and social services work hand in hand.
"The theme of this year's International Day, "Health for Justice – Justice for Health", reflects this imperative.
"As a chronic health disorder, drug dependence needs to be prevented and treated in line with international standards and science. Health and justice cooperation is essential to closing the gaps, making sure responses include youth and women, fight discrimination and promote alternatives to imprisonment for people with drug use disorders.
"Social inclusion and building resilience, as well as rehabilitation and reintegration, are instrumental in helping prevent crime and violence. Connectedness and communication in families, schools and communities can play a major role in strengthening our societies' defences against drugs.
"Better understanding of drug problems is also needed. Research and analysis are necessary to inform policy and enable international cooperation around evidence-based solutions," the UNODC boss said.
The International Day against Drug Abuse and Illicit Trafficking is observed every June 26 in line with the UN General Assembly (UNGA) resolution 42/112 adopted on December 7, 1987.
The day is observed to enhance the efforts to achieve an international society free of drug abuse and create awareness on the problems caused by illicit drugs to the society.