WHO, GPEI Partnership initiate internet-backed revolution for South Sudan health systems
The World Health Organization (WHO) and GPEI Partnership have succeeded in helping South Sudan develop mobile technology and related devices that may go in the nation's history as turning point for its health system transformation.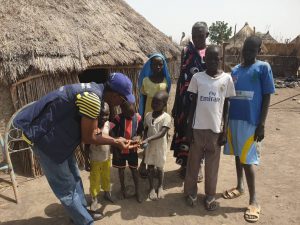 The initiative followed challenges that had faced the nation in gathering health data, measuring health performances and accessing hard-to-reach and conflict areas.
Frontline modes of collecting data in the extreme no-coverage situation enable countries like South Sudan with limited connectivity to internet benefit from collecting electronic data while conducting diseases surveillance in real time.
With the initiative, it is now possible to prioritize needed intervention for both immunization and surveillance, as the data exist for all to see", said Dr Atem  Anyuon, Director General of the Primary Health Care Ministry of Health  South Sudan, in a statement made available to this newspaper by the South Sudan WHO Country office.
The technology relies on cutting edge aggregation of data collected by health workers and community informants from the field on database servers, then displaying them on touch interactive screens.
This means monitoring and evaluation can be done by touching smart screens – with just a touch, maps can be viewed, charts and dashboards of data streaming in from the field can also be monitored.
Explaining the innovation, Nigerian-born WHO Country Representative in South Sudan, Dr Olushayo Olu said in the statement: "Interacting with real-time data via the smart visualization screens recognized gaps in surveillance and intuitively navigated the interactive maps of South Sudan".
He expressed optimism that the platform would enable interaction with other data sets from static collection platforms to triangulate and make actionable decisions to improve and support surveillance and other primary health services in the country.
Data Management Officer of the WHO Regional Office for Africa, Mr Godwin Akpan, said of the initiative: "For me – my enthusiasm about innovating on this has been the fact that we can collect data with geographic information in places that do not have any form of network coverage and it sends the information whenever the health worker reaches an internet source."
Akpan stressed that "There are the exciting possibilities of country teams having the freedom to slice and dice the data with various analytics on the smart screen; appropriate technology hitherto used for weather analyses by mega news conglomerates is being harnessed and now available for use by countries in the African region – a first of its kind built around open source technologies at no recurrent cost except for the hardware.
Following the independence of South Sudan, but with conflict continuing in some areas affecting many public health facilities, the novel technology of using smart screens to interact with field data collection has been readily embraced by Ministry of Health in South Sudan, the statement noted.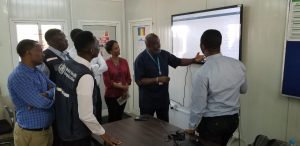 "With the introduction, South Sudan also demonstrated the strengths of the technologies in elucidating gaps and validating Acute Flaccid Paralysis (AFP) surveillance in remote hinterlands without internet, along with strong evidence of active case search, demonstrable staff accountability and ease of making customs situational charts and dashboards on the go.  Some of the achievements for South Sudan has been over 6,000 active case search for priority diseases being conducted across all the counties with 85% of the AFP cases having geo-coordinates.
"The gold standard for polio surveillance in the Global Polio Eradication Initiative (GPEI) Programme is the detection of cases of AFP and laboratory testing of stool specimens from these patients in a WHO accredited laboratory," read part of the release.