• decries slow implementation of National Health Act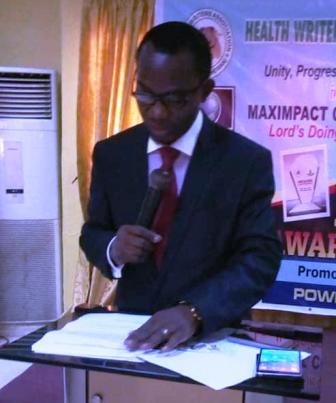 Dr. Enabulele at the symposium
Dr Osahon Enabulele, Vice President, Commonwealth Medical Association on Saturday decried the slow implementation of the National Health Act (NHA) 2014, saying that it is making the country's health indices worst.
Enabulele said this at the closing of the 9th Symposium and Awards organised by the Health Writers Association of Nigeria (HEWAN) in collaboration with Maximpact Communications, in Lagos.
The symposium had the theme 'Rewarding and Promoting in Nigeria 's Healthcare Delivery System's.
He said the Act had all the solutions to the challenges facing the country's healthcare sector.
"Four years after the enactment of the National Health Act, we are struggling to operationalise it. This is worsening the travail of the health sector particularly at the grassroots where the greater burden of health diseases reside.
"The slow implemention has also added to the financial burden of the citizens in their questions seek quality healthcare,"
"It has also made Nigeria's health sector to record one of the worst health indices in the world, with high infant, child and maternal mortality rates.
"Medical tourism is on the increase with the country losing billions of dollars to other country's economy. We can't continue like this, " he said.
Enabulele urged government at all levels to prioritise and invest in the health of citizens as part of core objectives of advancing social justice and development.
According to him, a healthy population is an economic asset.
"I urge the President Muhammadu Buhari led-administration to urgently implement the NHA as it will address the problems of brain drain, weak health system, absence of universal health coverage, medical tourism and even poverty.
"Our governments should begin to accord the health sector the recognition it deserves to save the lives of citizens, " he said.
In his remarks, Dr Emmanuel Enabulele, Chairman, HEWAN Board of Trustees said that the symposium was a forum to bring together health experts to brainstorm on the ways to address the challenges in the nation's healthcare sector.
Enabulele, also a Consultant Surgeon, urged health writers to continue to give adequate reportage to the healthcare sector to draw attention of policy makers.
He also called for high political commitment to the health of Nigerians.
The event featured an award ceremony where personalities and institutions such as Dr Osahon Enabulele, Prof. Maurice Iwu, Phamatex pharmaceuticals, SynLab (former PathCare Lab), Eva Water and Lumapil pharmaceuticals, who have contributed positively to the nation's healthcare sector were recognised.