Roche officials advocate urgent public enlightenment to save Nigerians from  diabetes consequences
Pledges support for DICOMAG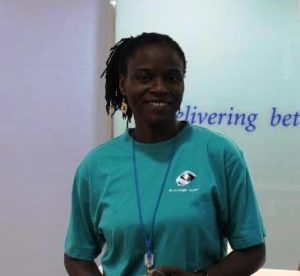 Amid studies showing that eight out of every ten people living with diabetes in Nigeria do not know they have the disease, officials of Roche Products Diabetes Care, the leading manufacturers and marketers of diabetes monitoring devices, have called on all stakeholders in the country to urgently step in and  embark on intensive awareness campaign to save more people from the scourge of the disease.
Receiving officials of Diabetes  Control Media Advocates (DICOMAG-Nigeria) in the company's Lagos office  on Friday July 19,  the Strategic Account Manager, Mrs Folashade  Olufemi-Ajayi noted that the incidence of diabetes is increasing worldwide, along with its many complications,  while a large number of people in the country still indulge in lifestyles that either make them more predisposed to the disease or make its control very difficult for those living with it.
"We need massive enlightenment to empower the people. We  are not living right. We don't eat or drink  right and these just make more people to be predisposed  to developing diabetes.  We are always sitting and we don't exercise the body. Yet, most people do not check whether or not they have it.
"Diabetes has up to 10 years hibernation period and you may have it and not know you do. This is why government, both federal and states,  should embark on public screening. There should be funds for it. There's also need to incorporate diabetes in the National Health Insurance Scheme as there's currently no form of insurance cover for it at the moment."
In his speech, the company's Marketing Manager, Mr. Adeola  Adeniyi  commend DICOMAG for its initiative to involve the mass media in the campaign against diabetes, saying the initiative fully aligns with the company's quest to assist Nigerians, as much as it can, to prevent the disease while those living with it are also empowered to achieve control  in managing it.
He told DICOMAG officials that the company had embarked on a strong enlightenment campaign in the last 8 weeks, using the mass media to inform Nigerians about diabetes, its prevention management and necessary lifestyles for its prevention.  He called on other stakeholders to also step out and join in the campaign.
Earlier, DICOMAG Director of Communication Mrs Yinka Shokunbi said the officials of the organization decided to visit Roche and other stakeholders in the pharmaceutical sector because of the crucial role they play in the management of diabetes.
"As reporters, we know a large number of Nigerians indulge in unhealthy lifestyle and many of them may end up with diabetes in later years.  We have also seen government policies contributing to people's inability to achieve diabetes control.
"As government fails to respond appropriately to the menace, we are concerned that many Nigerians will continue to lose their lives needlessly if nothing tangible is done to reduce the burden of diabetes in the country.
"We are also worried that several Nigerians living with diabetes are unable to achieve control and are therefore not coping with the condition like their counterparts in other parts of the world, even in the African continent.
"We are equally worried that many patients do not have access to life saving medications while a large number of people with diabetes do not know they have the condition.  We have thus formed DICOMAG to raise awareness on the menace of diabetes in Nigeria, serve as a pressure group to ensure adequate government/public attention on diabetes and other prevalent  non-communicable diseases in the country and to solicit support for effective control by people living with diabetes in Nigeria."
Mrs Shokunbi further told the Roche officials that DICOMAG would soon commence  a wide scale publicity to create awareness on diabetes. This, she said would include the production of a radio and TV documentary on the state of diabetes in Nigeria.
"We also plan to mobilize all health correspondents to take part in the aggressive campaign.  We will thus be organizing training workshops in the six geographical zones of the country, beginning with South West, our base. This will be followed by a bi-monthly lecture series featuring different experts in diabetes management to interact with journalists."
She called on Roche and other stakeholders to assist the organisation to realise its objectives and help save Nigerians from the scourge and complications of diabetes.