Eswatini gets new WHO Representative
Receives warm welcome in Mbabane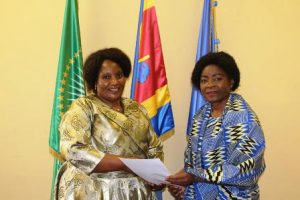 The World Health Organization (WHO) Representative to the Kingdom of Eswatini Dr Cornelia Atsyor presented her credentials to the Minister of Foreign Affairs and International Relations, Honourable Thuli Dladla.
The presentation of credentials took place at the Ministry of Foreign Affairs and International Relations Offices in Mbabane. Dr Atsyor was accompanied by WHO Health Systems Advisor Dr Khosi Mthethwa. She was appointed to the Kingdom in January 2019 after having served as WHO Representative (WR) in the Kingdom of Lesotho.
She replaces Dr Tigest Ketsela Mengestu who left the Kingdom in October 2018 to join Tanzania WHO Country Office. Dr Atsyor assumed office in March 2019. The presentation of credentials means that the WR will now be official in the Kingdom and will have full and official capacity to act on behalf of WHO at all levels.
In her presentation to the Minister, the WR pledged her commitment and that of WHO towards improving the health of Emaswati by ensuring Universal Health Coverage as part of the Sustainable Development Goals agenda.
Minister of Foreign Affairs and International Relations Thuli Dladla warmly welcomed the WR into the Kingdom, assuring her that she would enjoy her stay. The Minister stated that what the WR might have heard in the media was the definite opposite of the situation on the ground, adding that Emaswati are warm people led by a monarch.
"As a Christian country we understand that God tasked Kings to lead nations. However, most countries have done away with monarchies, but we as a nation of Emaswati have maintained that, hence you will feel the difference and the peace that prevails in our Kingdom," she said.
The Minister added that Emaswati still adhere to their indigenous beliefs and are proud of who they are. She said she was hoping that the WR would soon meet their Majesties and attend the upcoming national ceremonies. She especially pointed out that Her Majesty the Indlovukazi is a dynamic leader who is very passionate about women issues.
Honourable Dladla said that she was grateful that the health sector will be led by yet another woman as the Minister of Health is also a woman. She said women understand health issues better than men in that they are caregivers by nature. She assured the WR that they would work well together with her counterpart at the Ministry of Health.
"We appreciate the role that WHO plays in the health sector. You will note that we have invested a lot in the health sector and a lot of health facilities have been built through support from partners. We hope that WHO will help us to improve the health status of the people of Eswatini as we strive towards attaining our Vision 2022," she said.