2 dead as Government confirms 3 cases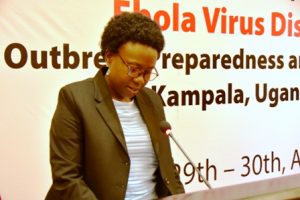 The government of Uganda announced today, June 13,  that the country has so far recorded three confirmed cases of the Ebola virus.  Two of the cases, a 50-year-old woman and her five-year-old grandson, the index case,  have been reported dead.
A Press release signed by the Minister of Health. Dr.  Jane Ruth Aceng said the woman had travelled from the Democratic Republic of Congo  (DRC) on June 10 but tested positive of Ebola but died yesterday at 4pm.
"She will be accorded a safe burial at a public cemetery today in Kasese District," the statement said.
Meanwhile, the statement said teams from the ministry of health, WHO Uganda, Centre for for Disease Control (CDC) Uganda, led by the health minister had met with DRC health officials "to harmonize ideas on screening at the boarder points, prompt sharing of information and conclude signing of Memorandum of Understanding with DRC that also includes cross boarder movements of patients. It was resolved that all the unofficial points of entry would be manned on both Ugandan and DRC sides and information on any unusual events shared immediately. The signing of the Memorandum of Understanding will be undertaken within  two weeks.